By Cynthia C. Davis
April 13, 2022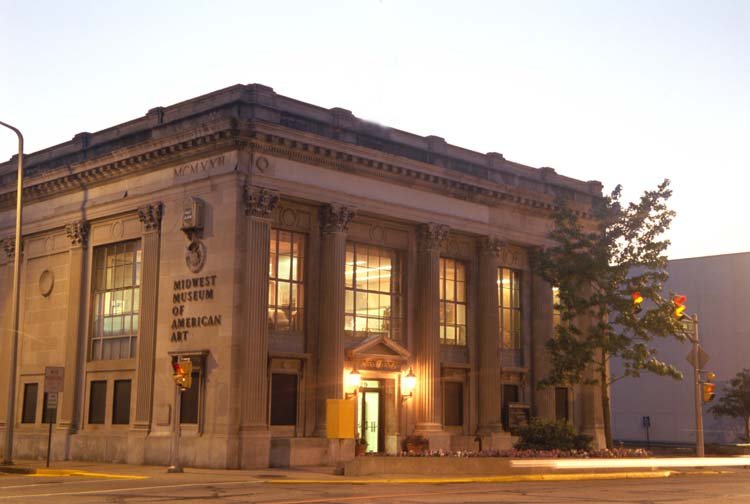 From April 15 through July 10, 2022, the Midwest Museum of American Art (MMAA) in Elkhart, IN, will exhibit works of artists from Michiana and a little bit beyond in a show called "Recycle, Repurpose, Re-imagine: The Poetry of the Found Object." The theme was chosen to celebrate the 100th anniversary of the building that the museum has occupied for 43 years—the former St. Joseph Valley Bank building.
Slated for demolition in 1978, the 1920s bank building was instead saved and repurposed by two of the museum's founders, the late Dr. Richard and Jane Burns. The husband and wife refurbished the space and transformed it into an art museum.
As such, the building itself is a found object of art, repurposed and reimagined.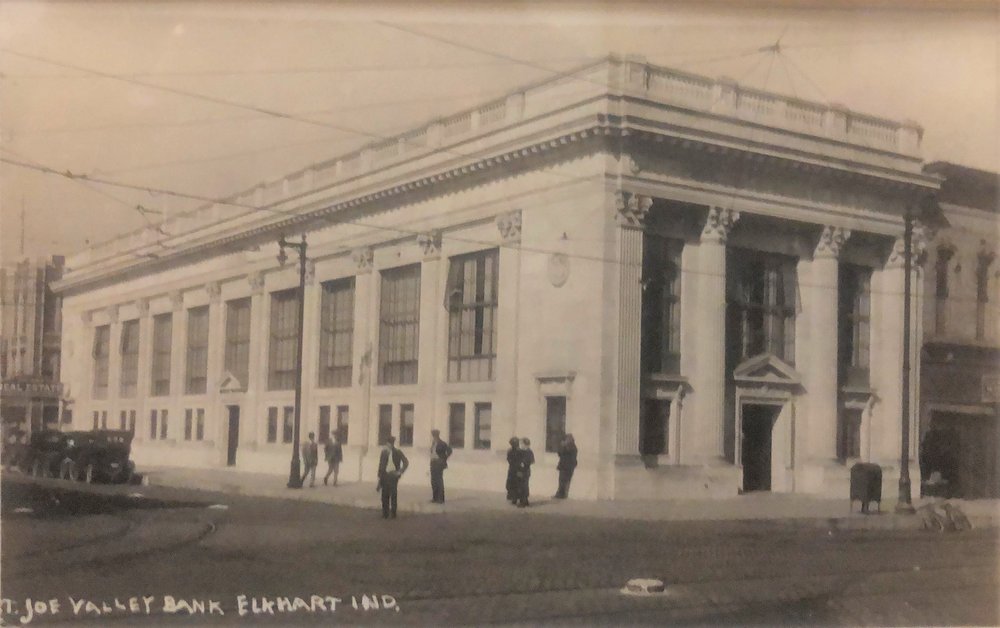 "You are sitting in the part of the building that was added on," says Curator Brian Byrn, who has served MMAA for more than forty years. He points to a wall covered with framed paintings visible through the glass wall of his office: "That was the wall of the original building."
As I listen to Byrn describe the building's history, I feel enveloped in a kind of nostalgic magic.
In 1958, years before the Burns bought the building, it had been "modernized." Before, there had been a 12-foot ceiling with a sky light, but the bank wanted to match the style of the late '50s. So, they dropped the ceiling, updated the lighting, leveled the floors, and installed wall-to-wall carpeting in the long, wide hallway, where bank tellers greeted members.
Outside, they built a two-story, L-shaped addition around the original building, along the north side and front. To match the original façade, the addition was faced with Indiana limestone. So, from the outside you would have seen a much larger building with an imposing, neo-classical façade. Inside it was completely modern. Thanks to these different styles, it was as if you walked back through time when you entered the building and walked through.
After the Burns bought the building, they went to work renovating, unearthing much of the original charm. They took up the carpeting and scraped down the coating that had been used to level the floor. Underneath, they found pink Tennessee marble, marked by indents from the feet of bank tellers who had worked there.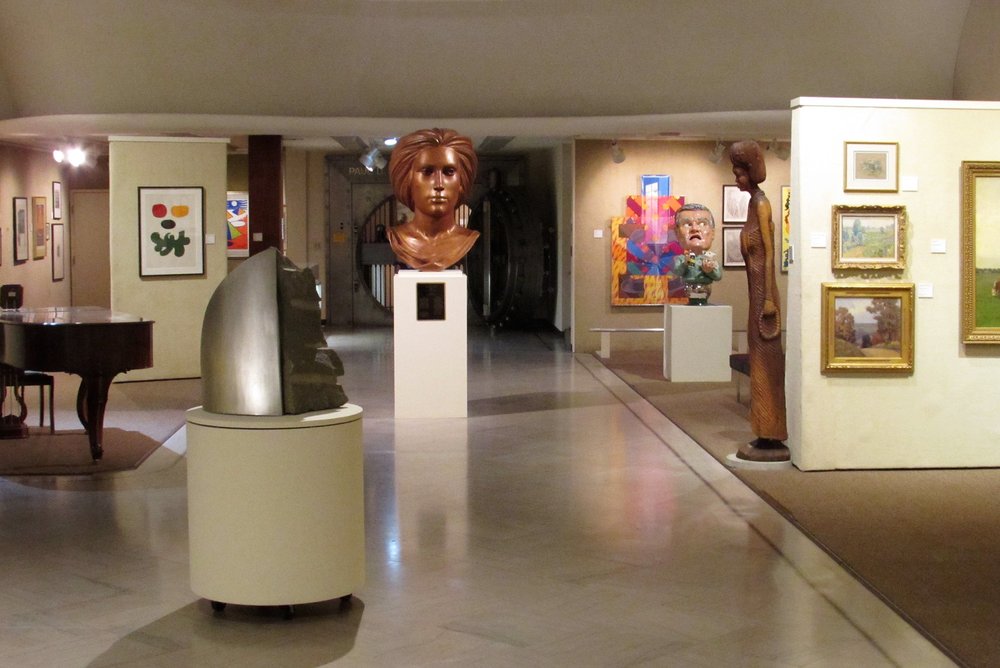 The floor alone is a work of art—it is bordered with black triangular Belgium granite inlays, which are rounded on the ends and inside. The inlay is eighty feet, front to back, and thirteen feet wide. Byrn says that they still don't understand how the inserts were made and laid into the marble.
The marvels of this venerable building must also be seen from the perspective of maintenance, says Byrn. Maintenance is costly—for some projects, prohibitively so. He says he'd like to replace eight security cameras with newer ones and add eight more. This project alone would cost $16,000.
"Needless to say, that got stalled in committee," quips Byrn; but, he adds, "security of the building is solid as it is."
Curators are caretakers. I can see how seriously Byrn takes his calling as he describes, eyes wide with concern, how every morning he and Randy Roberts, assistant curator and photography specialist, check for leaks. Remember, the sky light in the ceiling of the main hall? After the addition of a new roof, they discovered a leak coming from there in the main gallery. Fortunately, no art was damaged.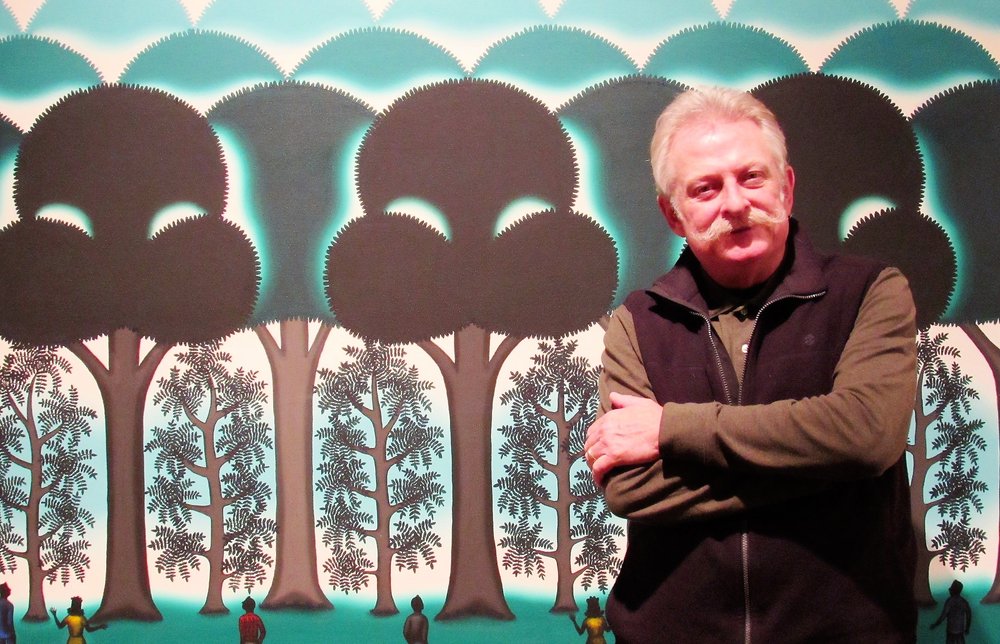 In the forty-plus years Byrn has led the museum, he has overseen the acquisition and protection of some 7500 art pieces. Among them is a large collection of hand-signed lithographs by Norman Rockwell.
Bryn says that this celebratory exhibit features more than 70 works, including collage, mixed media and found objects.
"'Recycle, Repurpose, Re-imagine: The Poetry of the Found Object' will reflect shared sensibilities but also lend a unique perspective of the vision of each individual artist," he says. "The ideas of process and transformation; using materials found in the real world; making poetic associations; and interpretative and personal journeys of discovery will be some of the major themes."
Byrn chose ten artists, mostly from previous juried shows hosted at the MMAA. They are Heidi Bailey, Warsaw, IN; Karen Bondarchuk, Kalamazoo, MI; Doug Calisch, Crawfordsville, IN; Todd Hoover, South Bend, IN; Justin Johnson, Fort Wayne, IN; David Dodd Lee, South Bend, IN; Bonnie Rock, Plymouth, IN; Marcia Sindone, LaPorte, IN; Kathy Ziente, Goshen, IN; and Bonnie Zimmer, Rensselaer IN.
As is Byrn's habit for new exhibits like this, the art will intermingle with works from the permanent collection, including works by David Demske, Three Oaks, MI, Scott Hatt, South Bend, IN; and George Herms.
All of the works are "disparate parts made of disparate parts—found or scavenged," says Byrn. The detritus of local civilization will be on display "reconstructed, reinvented and reimagined."
Collage often becomes metaphor, says Byrn. Sculpture can be made of extrapolated parts. It can be room-size, wall-mounted, free-standing. Found art can be a kind of feng sui, a harmonic putting together—or a dis-harmonic taking away, as in wood-carved sculpture. All of it has something to say.
"This is very personal," says Byrn. "Art is always geopolitical in that it seeks to sway your opinion."
Or, as my grandson Josh Clark loves to quote: "Great art comforts the disturbed and disturbs the comfortable."
"Children have no fear of art," says Byrn. "They see life through their imagination. Later, they have that washed out of them. So, we have to get back to seeing with the eyes of a child."
One of the ten artists featured, Karen Bondarchuk, paints crows. Crows are scavengers, attracted to shiny metal objects; they are artists of the natural world. She will be showing small pieces, 8 by 10 inches: "Scavenged Metal Parts." This is art found and painted by Bondarchuk, after it was found and assembled by crows!
From Plymouth, Bonnie Rock is creating her art pieces from items that came out of the building during its renovation and were going to be thrown out otherwise.
The exhibit will not only feature visual art, but also poetry. The MMAA's annual poetry reading will take place during the building's 100th anniversary party, on May 26. David Dodd Lee, teacher of poetry at IUSB, will present some of his redacted poetry. He creates these by removing lines from existing poetry, both famous and unknown works. What remains is new poetry with fresh meaning, found and re-imagined.
RECYCLE, REPURPOSE, RE-IMAGINE: THE POETRY OF THE FOUND OBJECT
APRIL 15 – JULY 10
https://www.flipsnack.com/panoplymichiana/panoply-spring-2022/full-view.html
https://www.panoplymichiana.com/blog/recycle-repurpose-re-imagine-the-poetry-of-the-found-object-at-the-mmaa