Docent Programs

Docents are volunteer tour guides who function as adjunct staff. They lead tours of all ages through the temporary exhibits and permanent collections. The Docents' expertise in "teaching through touring" has made the museum tours very popular. The Midwest Museum of American Art has an extremely active docent program. Anyone interested in our docent program should contact the museum. By email at
info@midwestmuseum.us
or call (574) 293-6660.
Tours
Group tours must have reservations one week prior to the groups visit. Please contact the museum (574) 293-6660.
Children and Adult Classes
Special workshops are presented throughout the year for both children and adults. Please check the calendar of events or contact us at (574) 293-6660.
Bus Trips
Excursions to view collections from all over the world are provided for members and the general public. If you would like to be notified of upcoming bus trips simply send us your name and email to
info@midwestmuseum.us
or call (574) 293-6660.
Thursday Noon Time Talks
Held every Thursday at 12:20 pm to 1:00 pm with focus on the museum's permanent collection or current exhibit. For a listing of upcoming talks see our Calendar of Events.
Lectures and Film
Special Lectures by visiting artists and scholars are held in conjunction with the temporary exhibits. Films are shown in a series format and help to support the public's knowledge of art. Please check the calendar of events or contact us at (574) 293-6660.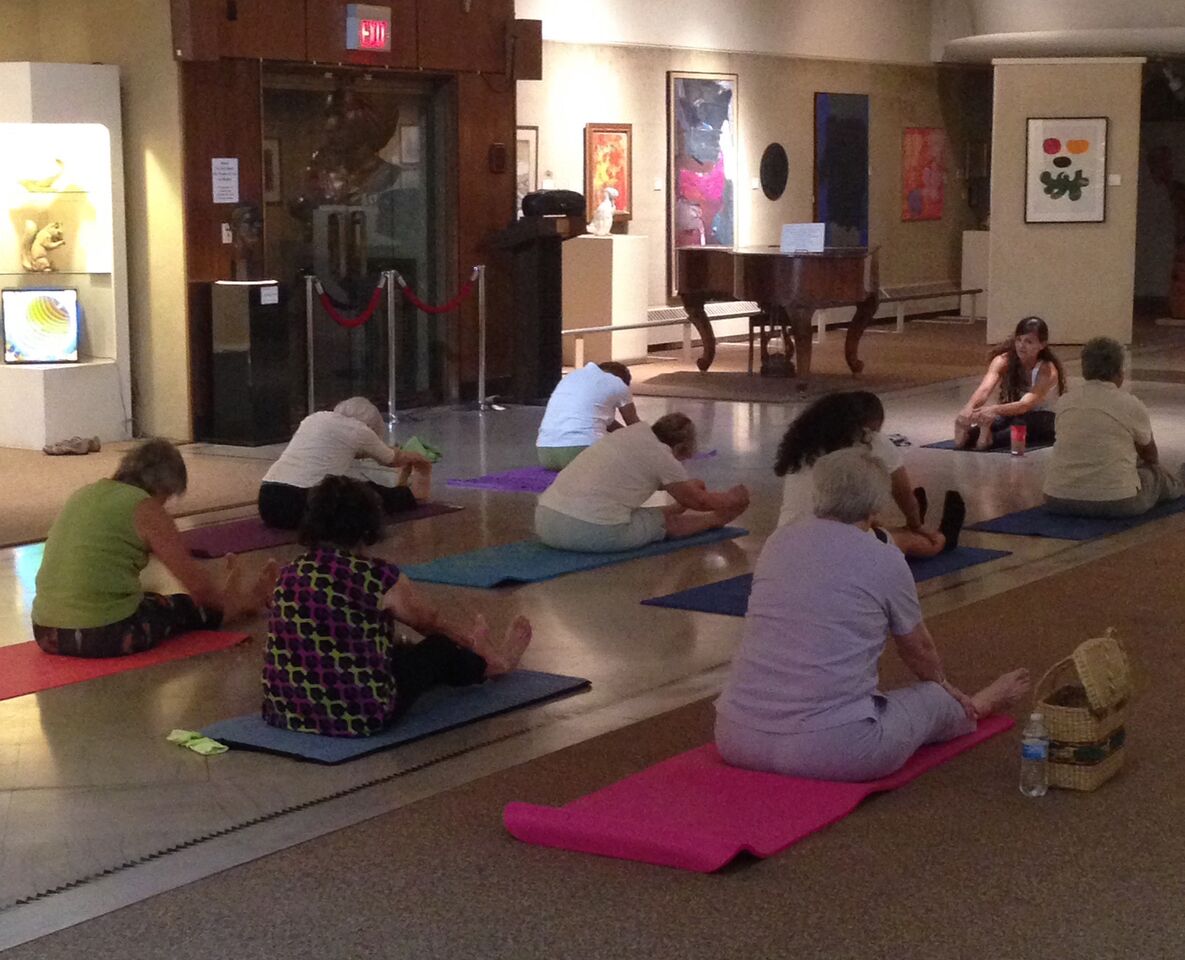 Yoga at the Museum
An Introduction to Flowing Yoga
Mondays from 12-1:00 PM in the Main Gallery of the Midwest Museum of American Art.
The Vinyasa style of Yoga will be emphasized. This type of yoga is an excellent exercise to synchronize breath and movement. This type of Yoga is great for anyone who is experiencing pain, poor circulation and low blood pressure. Those who participate are encouraged to wear comfortable clothing and must provide their own mat.
Class size is limited to the first 20 people who sign up. A donation of $10 per hour/per class payable to the MMAA each Wednesday. Participants must pre-register.
All Proceeds Benefit the MMAA Educational Program Fund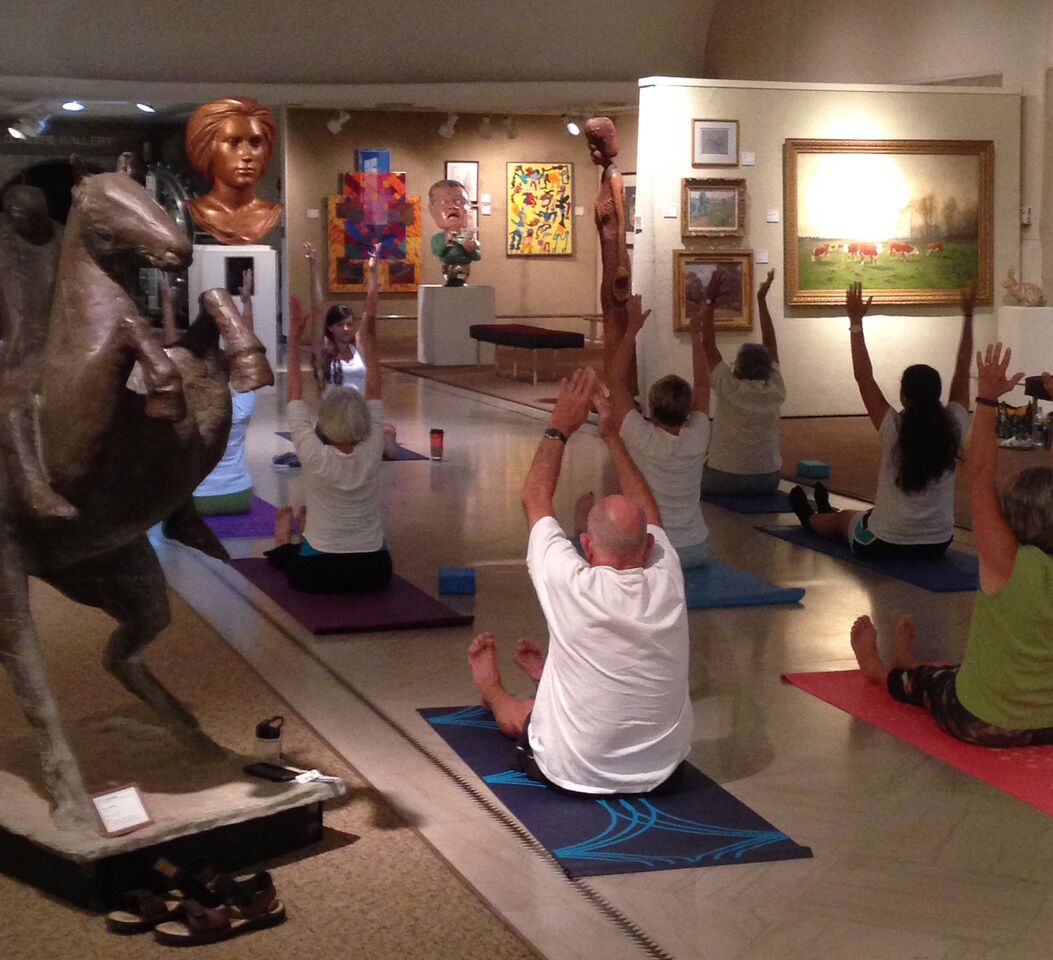 Tai Chi in the Gallery
An Introduction to Tai Chi
Wednesday, 9am-10am
Instructor: Susie Lehman
Class size is limited to the first four MMAA members who sign up. A donation of $8 per hour/per class is suggested and payable to the museum each Wednesday. All proceeds help future educational programs at MMAA. Participating MMAA members must register before arriving at class.
Instructor Susie Lehman, who has over ten years experience, will emphasize the Li style of Tai Chi; an excellent exercise to improve body strength and balance. Museum members who participate are encouraged to wear loose fitting clothes and shoes with a good-grip sole. Any questions should be directed to the instructor at 574-266-9877. This is a continuous learning process and will stress continuity in attendance.
OPENING PROTOCOLS FOR THE MIDWEST MUSEUM OF AMERICAN ART
 Effective June 16, 2020
 In accordance with Executive Order 20-32 Back on Track Indiana: Stage 4, museums are permitted to open up to 50% capacity provided social distancing can be achieved and maintained. MMAA will re-open on Tuesday, June 16, 2020.
THE FOLLOWING PROTOCOLS WILL BE OBSERVED:
Admission:        
$10 per adult visitor; $6 ages 8-12; $8 ages 13-18; $8 college students with ID
Hours of Operation:       
Tuesday through Friday, 10 a.m. – 4 p.m.   &  Saturday and Sunday, 1 p.m. – 4 p.m.
Masks
Visitors will be greeted by museum staff who will be wearing masks.
All visitors are required to wear a mask.
Masks are required for all gallery talks.
Masks can be purchased at the MMAA front desk prior to admission for $2 each. Supplies are limited.
Hand-Sanitizer
All visitors are required to use hand-sanitizer before entering the galleries.  The museum continues to follow the usual 'No Touching Works of Art' rule.
Social Distancing
Individual visitors will be asked to observe the 6 feet social distancing guidelines suggested by the CDC and the Indiana State Health Department. Signage is posted as a reminder.
Capacity
Only 35 visitors will be allowed admission to the museum at any time, including for Gallery Talks or Noon-Time-Talks.  Call in advance to check on entry status or ask at the front desk upon arrival.  A self-directed gallery guide is available for children to make their visit more interactive. Ask at the front desk. Family tours of same household are available.
Gallery Talks
Gallery Talks or Noon-Time-Talks each Thursday will be limited to 35 people on a first-come-first-serve basis. Doors will be locked at 12:15. No admittance to the museum by public will be allowed until the talk has concluded and the galleries emptied and sterilized.  The total numbers allowed for gallery talks will be modified as permitted under the Governor's most recent executive order.
Group Tours are prohibited.  All group tours of any kind are prohibited including, family reunion group visits, class reunion groups, bus tours, nursing home tours, homeschool groups, daycare tours, and summer camps.
Other Policies
Wheelchairs, walkers, and other ambulatory devises are permitted.
No umbrellas, backpacks, large purses, food, drink, or smoking is allowed.
Restrooms are available only on the first floor of the museum.
All handrails, door handles, and restrooms will be sterilized frequently throughout the day.
All policies and procedures will be reviewed as needed. Consult the museum's website at www.MidwestMuseum.US or the museum's Facebook page or Instagram posts for updates.